This is an older post, but I thought it worthy of putting up. Funny how you never hear of this stuff by American media.
XKV8R: The Official Blog of Robert R. Cargill, Ph.D.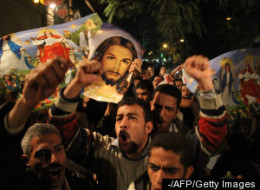 Rarely in modern times do we witness acts of solidarity and social justice that are truly life threatening. I am honored to say that I am proud of the Egyptian Muslims who protested the terrible militant attacks against Coptic Christians at the Saints Church in Alexandria, Egypt on New Years day. But it was the way in which they protested that was both impressive and self-sacrificial.
A mass of Egyptian Muslims formed human shields around various Coptic churches during Coptic Christmas eve mass services throughout Egypt and at candle light vigils held outside. They offered their bodies and risked their lives as protection against militant Muslim terrorists while Coptic Christians worshiped inside. It was an act of solidarity with their Christian Egyptian neighbors that spanned their different religions and got to the heart of both faiths: love of neighbor as social justice towards all.
Among those shields were movie…
View original post 145 more words